You are welcome here!
---
Historic St. Peter Church is an intentional Catholic faith community growing in the Franciscan tradition. We welcome visitors, along with new and old members, to join us in worship in our beautiful downtown Cleveland church.
We are located at Superior Avenue and E. 17th Street, within walking distance of Cleveland State University, Superior Arts District, Playhouse Square, Rocket Mortgage Fieldhouse, and Progressive Field.
Historic
Founded in 1853 to serve German immigrants in Cleveland, a few parishioners can count ancestors among the early parish members. The church has landmark status and is one of only two documented pre-Civil War structures remaining in use in downtown Cleveland, creating a very inspiring atmosphere for community and worship.
Franciscan
Our unique parish is under the pastoral care of the Capuchin-Franciscan friars of the Province of St. Augustine. We strive to embrace a fraternal vision of leadership as lived by the friars. Honoring the noble simplicity of the Roman Rite, our preaching is challenging and engaging, rooted in practical Franciscan spirituality, with intimate gatherings around the altar, enlivened with exceptional music.
Active
A renewed social justice ministry is growing as Covid restrictions are easing, providing outreach to the homeless and hungry in our neighborhood. We serve college students through the neighboring Newman Campus Ministry program for Cleveland State University.
---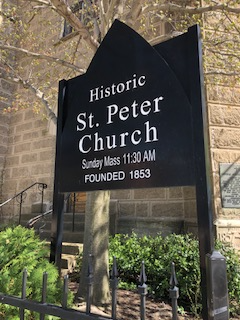 Urban
St. Peter's is also the Downtown Hub for Young Adult Ministry for the Diocese of Cleveland with regular daily activities and weekly service projects. We are honored to host many joyful and joy-filled weddings each year for couples in the local area and those returning to Cleveland to celebrate their marriage with family and friends.
---
Visiting downtown Cleveland? We would love to have you join us for an amazing Mass you'll not easily forget.
---
---
---
Core Values of St. Peter Parish
---
Franciscan Spirituality
Humble simplicity is at the heart of our sacred space and our worship. Our focus on what's important is why we are here, following in the spirit of St. Francis.
---
Honesty and Authenticity
Everyone has a voice that is heard. Everyone is authentic.
---
Service to Others
We are invited to serve one another, transforming lives.
---
Community Builders
Each person has the freedom to help build and shape the community.