READINGS AND HYMNS FOR THE FOURTEENTH SUNDAY IN ORDINARY TIME (A) Antiphon:
Your merciful love, O God, we have received in the midst of your temple.
Your praise, O God, like your name, reaches the ends of the earth:
Your right hand is filled with saving justice (Ps 48:10-11).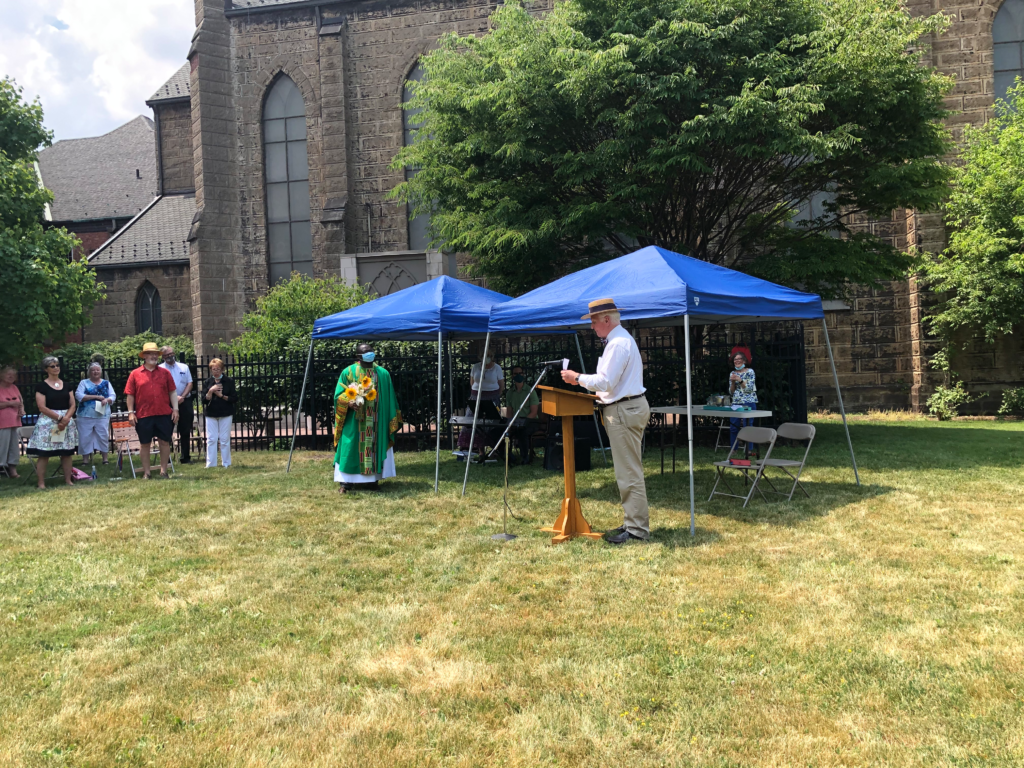 Our psalm for today praises God who is good, kind, merciful, loving,
faithful, and eager to "lift up all who stumble." We are asked to join all
creation, all God's works, in giving thanks. And so we sing in our
opening hymn our praise to the tune of Beethoven's "Ode to Joy." Joy
is also the theme of our first reading from Zechariah: we are to "rejoice
heartily" as our peace-giving God comes to us. And why? Our second
reading from Romans reminds us that the Spirit of God dwells in us,
enabling us to live a life dedicated to God and to one another.
Opening Hymn: Joyful, Joyful We Adore You (Hymn to Joy – Beethoven – G3-614)
Joyful, joyful, we adore you, God of glory, Lord of love;
Hearts unfold like flow'rs before you, opening to the sun above.
Melt the clouds of sin and sadness; drive the dark of doubt away.
Giver of immortal gladness, fill us with the light of day!
All your works with joy surround you, earth and heav'n reflect your rays.
Stars and angels sing around you, center of unbroken praise.
Field and forest, vale and mountain, flow'ry meadow, flashing sea,
Chanting bird and flowing fountain sound their praise eternally!
You are giving and forgiving, ever blessing, ever blest.
Wellspring of the joy of living, ocean-depth of happy rest!
God our Father, Christ our brother, let your light upon us shine.
Teach us how to love each other, lift us to the joy divine.
Mortals, join the mighty chorus, which the morning stars began;
God's own love is reigning o'er us, joining people hand in hand.
Ever singing, march we onward, victors in the midst of strife;
Joyful music leads us sunward in the triumph-song of life.
First Reading: Zechariah 9:9-10
Psalm Response: Psalm 145:1-2, 8-11, 13-14 (Scott Soper – BB-815)
Refrain: I will praise your name forever, my king and my God, my king and my God.
I will praise you, God and king: I will bless your name forever.
Every day I will bless you, praise your name forever. Refrain.
You are grace and mercy, Lord, slow to anger, filled with kindness.
You are good to all your children, loving all creation. Refrain.
Let your works give thanks to you; let your faithful ever bless you;
Let them praise your strength, your glory, and proclaim your kingdom. Refrain.
Every word you speak in faith, every work you do is holy.
You lift up all who stumble, you raise up the lowly. Refrain.
Second Reading: Romans 8:9, 11-13
Our gospel today gives us one of the most comforting passages in all of scripture. Jesus calls to us, "Come to me, all you who labor and are burdened, and I will give you rest." He then tells us to take upon ourselves his "yoke" which reminds us of last Sunday's admonition to "take up our cross."
This passage in Matthew's gospel contains an allusion to the prayer of Sirach to obtain Wisdom. Wisdom, a feminine way of imaging God in the Old Testament, and a way of imaging God as closely involved in our world, answers Sirach's prayer. Note the similarity between Wisdom's words and those of Jesus in Matthew: "Draw near to me, you who are uneducated, and lodge in the house of instruction. Why do you say you are lacking . . . and why do you endure such great thirst? . . . . Acquire Wisdom for yourselves . . . . Put your neck under her yoke and let your soul receive instruction; it is to be found close by" (Sirach 51:23-26).
By alluding to this passage, Matthew identifies Jesus as the Incarnation of Wisdom, truly our Way, Truth and Life. We are invited to come to him and find all we need. He will teach us by his example and enable us by his Spirit to bear our burden and find rest, life, and light. Our preparation and communion hymns are based on this theme.
The image I've placed here illustrates well the message of today's liturgy. Jesus invites us to "lay down, O weary one, lay down your head upon my breast," as the hymn says. The statue is found in the Cleveland Museum of Art's medieval collection. It is of gilded oak from Swabia, dated about 1300-1320.
Gospel Acclamation:
Alleluia! Blessed are you, Father, Lord of heaven and earth;
you have revealed to little ones the mysteries of the kingdom. Alleluia! (Mt 11:25).
Gospel: Matthew 11:25-30
Presentation Hymn: Come to Me (Gregory Norbet), Refrain only – BB-461
Come to me, all who labor and are heavy burdened, and I will give you rest.
Take up my yoke and learn from me, for I am meek and humble of heart.
And you'll find rest for your souls. Yes, my yoke is easy and my burden is light.
Communion Hymn: I Heard the Voice of Jesus Say (KINGSFOLD – G3-724)
I heard the voice of Jesus say, "Come unto me and rest;
Lay down, O weary one, lay down your head upon my breast."
I came to Jesus as I was, so weary, worn and sad;
I found in him a resting place, and he has made me glad.
I heard the voice of Jesus say, "Behold I freely give
The living water, thirsty one, stoop down and drink and live."
I came to Jesus, and I drank of that life-giving stream;
My thirst was quenched, my soul revived, and now I live in him.
heard the voice of Jesus say, "I am this dark world's light;
Look unto me, your morn shall rise, and all your day be bright.
I looked to Jesus, and I found in him my star, my sun;
And in that light of life I'll walk till trav'ling days are done.
In our final hymn today we ask God's care and blessing on our nation on this Fourth of July weekend, but also on all the nations of the world, especially in this time of pandemic in which we all share. Instead of dividing us, may this common calamity bring out in us our "better angels" and help us live in peace and concord with one another.
Final Hymn: This Is My Song (FINLANDIA – Sibelius – G3-986)
This is my song, O God of all the nations, a song of peace for lands afar and mine.
This is my home, the country where my heart is; here are my hopes, my dreams, my holy shrine.
But other hearts in other lands are beating with hopes and dreams as true and high as mine.
My country's skies are bluer than the ocean, and sunlight beams on cloverleaf and pine.
But other lands have sunlight too, and clover, and skies are everywhere as blue as mine.
So hear my song, O God of all the nations, a song of peace for their land and for mine.
This is my prayer, O Lord of all earth's kingdoms: your Kingdom come; on earth your will be done.
Let Christ be lifted up till all shall serve him and hearts united learn to live as one.
So hear my prayer, O God of all the nations; myself I give you, let your will be done.
F